FLOORING is not only to cover what you walk on but it can also be used on your walls, ceilings and even stairs.
Overlay your stairs with hardwood flooring planks for a seamless look with existing floors

​​​​​​​Adorn vaulted ceilings with wood planks

Use rectangular large-format floor tile to also tile your luxury shower floor to ceiling

Use floor tile to make an accent wall

Use non-slip large-format tile with small grout lines to make interesting pattern on outdoor deck or patio

Cut outdoor carpet into custom rugs with binding for easy-to-maintain condo deck flooring
Here's some information you may find handy about the services we provide.
Hardwood Installation, Sand & Finish
Hardwood Installation, Sand & Finish -
This involves many steps:
floor preparations - removing of all carpet pad and staples, address squeaks, leveling (can't hide imperfections in wood as you can with carpet),
acclimation of wood to your home


moisture readings - must meet industry standards prior to installation


layout using quality unfinished hardwood (tongue and groove style)


adhere to floor - staple, nail or glue-down - depending on engineered vs solid, above or below grade

*** if it's not factory pre-finished, then following is needed ***


sanding - use various grit sandpaper to rough sand then finish sand to prepair for stain process


apply stain - either premade industry stains, keep natural, or have we can create custom stain per your requirements
​​​​​​​
apply finish - we use only the best industry finishes such as Bona (typically semi-gloss or satin) and typically at least 2 coats
More details on this process can be found in the FAQ section of this website.
Kitchen Backsplash
Be creative -- so many products can be used for a kitchen backsplash, the sky is the limit! However... always consider maintenance.
Do you cook alot? Are you like us and a bit messy too? Well we installed this glass tile in our kitchen for the following reasons:
glass versus ceramic tile seems more modern





linear look gives the surface some depth





easy to clean





coordinated well with the black, stainless steel and white

​​​​​​​
The backsplash was installed using white thinset (versus grey) to ensure no discoloration with the glass. White grout was used to make it pop - can use any color really but typically white works best for glass.
Last step after cleaning - applied grout stain repellent. Easy spray on propucts make this a breeze

.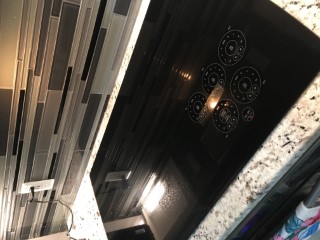 Outdoor Tile Deck
Have a deck or patio that needs a bit of sprucing up? Consider adding tile. The product to select will depend on the deck/patio subfloor and any weight bearing issues.

For instance, some condo complexes do not allow tile on their decks because the added weight could affect the integrity of the structure. In these cases, a homeowner could consider a glue-down outdoor carpet, loose lay carpet (roll up when not needed) or carpet tiles.

For homes and condos allowing tile, make sure you select a porcelain, slip resistant tile. This will ensure durability in all kinds of weather and alleviate any safety concerns. Tile sizes are abundant with large format and rectangualr styles.

Another concern is the underlayment(s), such as using concrete backerboard (aka Hardibacker) for wood subfloors and filling any voids in existing concrete to ensure bonding.

Other installation materials may be needed such as metal edging/transitions, crack suppression system, and waterproofing membrane.

Recreation/Sports Floor
Recreation / Sports Floors
Who says you can't have something unique in your home?
Accurate Flooring has experience in sports floors like basketball courts, racketball courts and bowling lanes.
We also offer a deep-cleaning service for hardwood floors (besides sports floors) using an compact industrial machine which uses a custom-designed brush which deep cleans and removes dirt without affecting the finish. It also has a water containment system which extracts the dirt and surface contaminants while leaving the floor dry for immediate use.
Contact Mike Renda for more information and see if this is an option for you !
Fireplace Surround
Combined linear fireplace and TV area is becoming very popular for streamlined looks!
Stackable stone adds texture and depth to feature areas and allows for access panels to be hidden in plain sight!
Large format, solid color, rectified edge tile gives a modern twist to accent walls and becomes a great canvas for artwork.
Take stone or tile all the way to the floor - tile and wood flooring can be cut-in to look seamless.
Custom Shower
All shower installation work is considered "custom" due to the level of expertise required. Though showers appear to have square corners and level surfaces, this is not always the case.
Prep work is required to ensure a successful installation beginning with using the appropriate products. It is imperative that waterproofing membranes and/or systems are used to ensure water does not seep into the drywall areas behind the shower or at the shower pan.
Floors and walls must be meticulously laid out with precision cuts to make sure everything fits as well as is pleasing to the eye. Layout is key and knowing where a person's eyes are drawn to while in the shower determines where everything "starts" with the layout.
You should choose mosaic-style tile for floors because combination of grout and mosaic will keep bathers from slipping. If large format are used, then cuts must be made to allow for the slope of the water drainage which may not be desirable.
Accent Wall
ACCENT WALL
Gone are the days when an accent wall was painted or wallpapered.

Consider using a large format tile - one with a rectified "true" edge can basically be butted together to give appearance of zero (0) grout line.
Tile can be used for an entire wall to set of a room.

Consider how edges are to be covered - do you need a metal trim or are there interlocking pieces as in a stackable stone.
Maybe even put the tile or stone on a diagonal to further accent a breakfast bar.